Hi Everyone!
We are into a busy Summer and having a great time. Last weekend was a very fun whirlwind with three events in three cities. Friday at the Boogie Bash in Rock Creek, Saturday with Jenny Moase and Sunday in Kamloops.This Saturday at North Van Shipyards. Life is good in Wonderland!

Things are going very well as we continue to spread musical joy wherever we go and we really appreciate all the support throughout the year as our friends come to see our shows. Thanks for all your face book postings, pictures and emails. It's an honor to have so many people interested in what we're doing.
All the best,

Dan, Andy, Ian and Georgia

---
Check out the new live show VIDEOS

---
CONTACT INFORMATION
For worldwide bookings of The MARCH HARE Band,
contact Dan Hare, (604) 897-6834, or a reputable music agency.
PLEASE NOTE: If you wish to have March Hare perform for your event, please try to book it early. The band has been unable to accept many potential bookings because of scheduling and demand. U.S. dates require approximately 40 days for immigration P2 Visa paperwork.
If you would like more information about The March Hare Band or if you have any comments, feel free to contact Dan Hare, Ian Paxton, or Andy Smyth
Thanks again and check back soon.
UPCOMING DATES

Updated Aug 7/2017
Summer Concert Series
North Vancouver Shipyards
Aug 12 - 7 pm
Cascades Casino, Langley
Aug 18-19
PoCo Car Show, Port Coquitlam
60s - 70s Shows
Aug 20 - Afternoon shows
Private Event
Sept 2
Kettle River Museum Fundraiser, Midway B.C.
Sept 8
Hard Rock Casino, Coquitlam
Sept 9
Treasure Cove Casino, Prince George
Sept 15-16
Private Event
Sept 23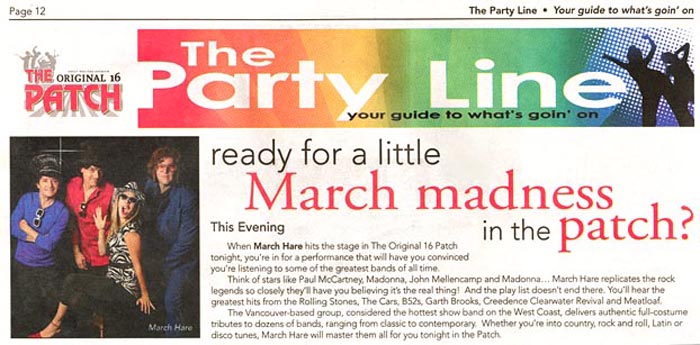 Tim Horton's Brier, Saskatoon


Whoopin' it up with the Alberta Oilmens Association, Jasper Park Lodge

House Band for many years