Hi Everyone!
We had a very fun weekend at the Two Lions. Ian was still in Mexico so our good friend Shawn Soucy did a fantastic job sitting in on drums. Thanks to all who showed up to enjoy the shows.

Thanks for all your Facebook postings, pictures and emails. It's an honor to have so many people interested in what we're doing. Life is good in Wonderland!
All the best,

Dan, Andy, Ian and Georgia

---
Check out the new live show VIDEOS

---
CONTACT INFORMATION
For worldwide bookings of The MARCH HARE Band,
contact Dan Hare, (604) 897-6834, or a reputable music agency.
PLEASE NOTE: If you wish to have March Hare perform for your event, please try to book it early. The band has been unable to accept many potential bookings because of scheduling and demand. U.S. dates require approximately 40 days for immigration P2 Visa paperwork.
If you would like more information about The March Hare Band or if you have any comments, feel free to contact Dan Hare, Ian Paxton, or Andy Smyth
Thanks again and check back soon.
UPCOMING DATES

Updated April 1/2019

Zoomer Show, Vancouver
Afternoon Disco Show
April 13- show time 4:00 pm
Hard Rock Casino, Coquitlam
April 26
Private Event, North Vancouver
May 4
Sawbucks, White Rock
May 11

Two Lions, North Van
May 17-18
Private Events
June 1, 13
Grande Prairie Casino
June 7-8
Hard Rock Casino - Vancouver
June 14-15
Peach City Beach Cruise, Penticton
June 21-22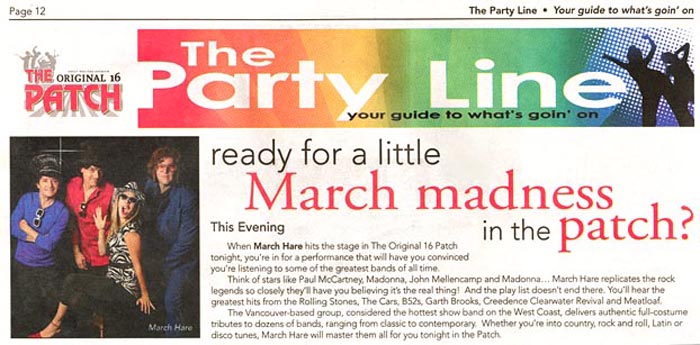 Tim Horton's Brier, Saskatoon


Whoopin' it up with the Alberta Oilmens Association, Jasper Park Lodge

House Band for many years